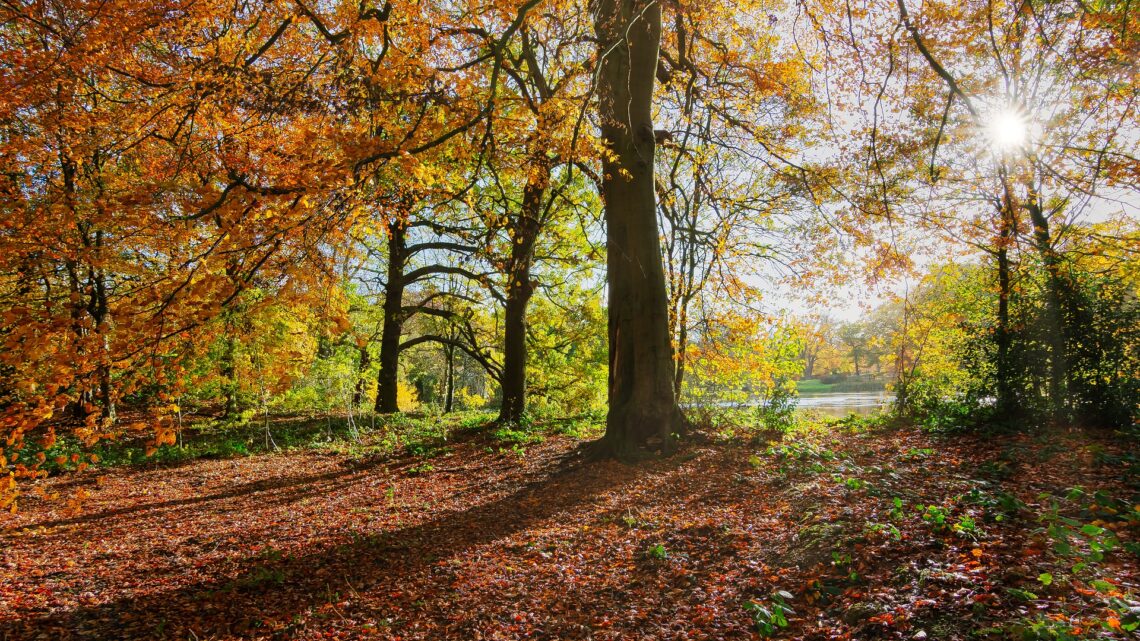 I write a little later than intended to bring you up to date with national, regional and local activity in CPRE. I have been waiting for the outcomes of a national restructuring, the appointment of a new Regional Chair, the appointment of a further Trustee for CPRE Rutland, a grant application and the recent Trustee debate on the work programme for CPRE Rutland over the next year or two. I can now report considerable progress on all fronts as detailed below.
As always, if you would like to discuss any of the following in person, please do not hesitate to get in touch. Just e-mail me at chair@cprerutland.gov.uk or call 01572 823465 or mobile 07710 328469. I hope you have a pleasant Easter and find time to enjoy the Rutland countryside. May I also acknowledge the efforts being made by many of the membership to support Ukraine at this difficult time.
Regards
Ron Simpson
Ron Simpson BEM
Chair – CPRE Rutland
A Message From the Chief Executive of CPRE Crispin Truman OBE
Dear local CPRE and regional chairs,
I wanted to give you an update from national CPRE as we conclude our restructure of the staff organisation and look to the future with our refreshed operational plan for 2022.
As you will recall, CPRE earlier this year had to make significant savings due to delays/shortfalls in income following the pandemic. Whilst we did everything we could to reduce non-staff costs and avoid redundancies, unfortunately the savings did include making a small number of staff redundant. Those redundancies have now taken place so I wanted to update you on the organisational structure and resources we now have in place. I'm pleased to report that the financial picture at the year-end in December was an improvement on our projections and we've had a good start to the new financial year. We also received a very strong response to our emergency appeal. With the reductions in fixed costs now in place we are working hard to ensure we meet revised budgetary targets over the next 18 or so months.
Regarding our Campaigns and Policy team, the reduction in posts has been designed to enable us to continue to meet key elements of our strategy, maintain delivery of our priority campaigns and meet the fundraising challenges ahead. We have focused resources on where we will be able to demonstrate the most impact, most quickly. ​ Therefore, we have integrated the rural economy & communities work into the existing land use and planning team, to form a combined Policy and Planning Team, with Paul Miner at its head. There has been no reduction in capacity for our land use and planning work. ​ We will be focussing hard on our campaign work with planning, hedgerows and 'the right renewables in the right place' taking primary position.
​
The External Affairs Team will remain broadly as they are now, but with reduced capacity in public affairs, and a more flexible approach with campaign roles taking on more public affairs tasks. ​
​
In our Engagement and Income team, the approach taken was to focus on and prioritise core income-generation needed for the short to medium term without adversely affecting diversification in the longer term. This meant protecting roles most linked with core fundraising – including retention of and support to members and the development and delivery of individual giving. Reductions were mainly in the area of content, website and publications. We will have reduced output in these areas for a while and will explore at different ways of generating content in-house with our volunteers and through outsourcing. The Income Generation and High Valueteams have also been reduced to a lesser degree, prioritising retention of and increasing income from current members/donors and external project funders.​
​
Although a smaller team, savings were also found in the Volunteering and Partnerships team. In the past couple of years, we've invested more in network training and new roles were created to deliver that, however this hasn't been sustainable. We are adjusting our resources back to an earlier model where a smaller network support team reported direct to the director. This will enable greater integration of the team with the strategic work of the governance review and partnership working between national and local CPREs.​
​
Very little change was made to our small Finance and Operational Effectiveness team as the wide scope of the work of the department has not changed and is still required to fulfill our legal and statutory requirements. The finance officer has been replaced by a finance apprentice.​
Overall, we have reduced the number of middle management posts and protected those posts providing direct support to volunteers, income generation and planning policy and campaigning. Although 11 posts have been deleted, because of normal turnover and existing vacancies the number of individuals made redundant was 4. An updated organisational chart and contact details are available from the CPRE office.
I hope that is helpful. I want to thank you all for bearing with us during this difficult period and of course during the pandemic over the past two years. We are now working with trustees to support staff and rebuild and refocus for the year ahead and as part of that we'll be aiming to get out and about and rebuild links across the CPRE network. I very much look forward to working with you all as we continue our campaigning and embark on new and exciting pieces of work to enhance, promote and protect the countryside. Please do let me know if you have any queries
Best wishes
Crispin
Appointment of a new CPRE East Midlands Chair
Dear CPRE Rutland Chair,
I am pleased to announce that John Lambert has been appointed as the new Regional Chair for the East Midlands. You may well know John already, as he is chair of the Nominations Committee currently and a former Peak District South Yorkshire trustee. During John's working life he worked in the East Midlands and he knows the area well. On behalf of the Regional Team, please join me in welcoming him into his new position.
Joanne Lowe – East Midlands Regional Secretary – www.cpreeastmidlands.org
Note: The regional website referenced above is significantly out of date. Clearly there is much work for the new Regional Chair and his team to do! We wish him all the best.
CPRE Rutland Appoints A Further New Trustee
I am delighted to report that Rachel Burkitt has been appointed to the board of CPRE Rutland with immediate effect. Rachel has a wealth of experience to bring to the table and I am confident she will prove to be a major asset to the charity.
Rachel is currently a senior media and public affairs executive who has a first class honours degree in English Literature, has a passion for the countryside and is a former journalist and freelance writer. Her skillset with social media and knowledge of local and national government will undoubtedly help us further protect the Rutland countryside.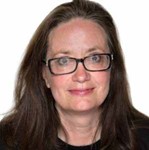 CPRE Rutland Awarded a National Community Energy Research Grant
I am delighted to advise that following a bid from CPRE Rutland, the county is one of five to be awarded a national grant to mount a series of participative workshops to help a local community understand and plan for its future energy needs. Work will commence shortly after Easter. My column in the Rutland Times, reproduced below, provides a resume of the planned initiative.
What Future Energy Do We Really Need?
One has only to read some of the publicity and community concerns around the country surrounding the plethora of large solar farms which are destined for planning consideration to realise that the nation is facing a dilemma. The majority of us want to be supportive of a low carbon approach to energy generation but on the other hand do not want to see a beautiful and productive countryside smothered in endless acres of solar panels containing chemically questionable materials. As always it is a question of balance and trying to find an outcome that meets the needs of society but respects the environmental rights of those who live and work nearby. To this end CPRE, the countryside charity, has come up with an innovative strategy.
Five county communities are to be invited to run a Community Energy Vision. So, what does this involve?
The Community Energy Visioning process is intended to show how renewables can be designed well in the countryside in a way that empowers rural communities. A Community Energy Vision is a written document which summarises how, under what circumstances, and where residents in a particular rural community (normally a specific parish) believe that renewable energy could be incorporated into their countryside. Crucially, a Community Energy Vision includes professional artistic illustrations of the local landscape as it would look with the renewable energy options proposed by residents. This document can then be used by the community to influence local and neighbourhood plans, lobby policy makers for a better approach to renewables done well, and even to explore opportunities for new community energy schemes.
Producing a Community Energy Vision involves running a series of three consecutive workshops with local residents in the chosen community. The workshops are designed to be iterative, and to adapt to the unique focus brought by local residents; there are no right or wrong answers and no specific pre-determined end point to be reached.
The first workshop is designed to be a discussion with residents about their connection to the local area and what parts of the surrounding countryside they particularly value, or perhaps feel have been lost. This provides an important basis for the next discussion by highlighting which parts of the landscape are most important to the community.
The second workshop focuses on local electricity demand and generation. The discussion ranges across existing electricity infrastructure already in the landscape and then uses a customised excel spreadsheet tool from the Centre for Sustainable Energy to explore the electricity needs of the local community. This is then used as the basis for attendees to consider a suite of different forms of renewable energy generation which could help meet their electricity needs. By the end of the second workshop residents will have considered how much of their electricity demand they would like to see met by local generation, and which types of generation they feel would be most appropriate for their landscape.
The third and final workshop takes everything that has been discussed in the previous sessions and gives residents the opportunity to use maps of the local area to identify very specific locations where they feel their preferred suite of renewables could best be sited within the landscape. This workshop also gives attendees the opportunity to comment on, and consider who, they would like to see own new renewable energy in their landscape, and to highlight any community benefits they would like to see alongside these installations such as funding to support community facilities or local biodiversity enhancement. An artist is finally engaged to illustrate the vision arrived at. Post project work can then help the local community make their vision become a reality if they choose.
CPRE Rutland has submitted what has been described as an excellent expression of interest to be recognised as one of the pilot counties in the visioning project. A significant grant is attached to the work which seems a very positive and proactive approach to calculating, and then hopefully meeting, our future energy needs. Critically, it has at its heart, local community engagement, action and design. Only by such engagement can government and the planning authorities secure the goodwill and support they need to deliver a much desired zero carbon future.
Let's hope the Rutland grant bid is accepted. It will be fascinating to know what the 'actual' future energy requirement of a town say the size of Uppingham actually is.  Perhaps we can then add a little more science and rationale to our next generation of Local and Neighbourhood Plans.  
Rutland Show – Saturday June 4th 2022
I am pleased to advise you that the CPRE Rutland Executive has agreed that, as the countryside charity for the county, we should take a stand at this year's Rutland Show and engage proactively with our community about our important work. Would you like to join us? We are looking for volunteers to help staff the stand for an hour or two on the day of the show. We hope to have Mallard Pass representatives with us to answer questions about their campaign. Also attending are members of our planning, membership, project and research teams. We are also expecting a visit from our hard working MP, Alicia Kearns. Contact Geoff Clyde at 01164 474829 if you can help on the stand.
Want to learn more about CPRE's work on affordable housing, health and wellbeing, public transport or biodiversity? Want to hear more about the benefits of electric car ownership? Want to talk about community energy, the 2022 Star Count or our plans for a follow up publication to the RCC Rutland Vision? Do you wish to ensure your favourite voluntary sector group or society receives an invite to the CPRE Rutland 2022 voluntary sector collaboration conference? Have a view about what else should be in our work programme? Come and tell us on the stand. We would love to hear from you.
CPRE Rutland Volunteers to Tackle Waste Bin Vandalism
Drive along the A47 in Rutland and you will see that for some weeks now the layby wastebins (pictured) have been vandalised putting a scar on the otherwise beautiful surrounding countryside. CPRE Rutland has offered to restore the paintwork on the bins as a community volunteer project. A local business has offered to fund the paint. Permission to undertake the project is expected from the highway's authority soon.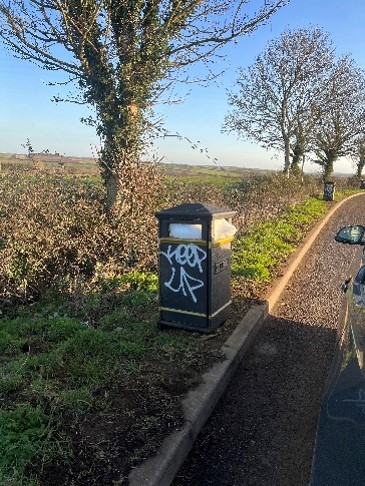 Want to join us in such a worthwhile initiative? Just call 01572 823465 to join the working party. It could be a lot of fun!
International Women's Day 2022
I am pleased to report that CPRE Rutland had a strong presence at a breakfast event organised by Rotary in the county to mark this year's International Women's Day. Three stimulating and thought provoking speakers reinforced the view that equality of opportunity for all is as important in the countryside as it is in urban areas.
Planning Applications
Led by former RCC Planning Officer Carolyn Cartwright and supported by experienced Clipsham Parish Meeting Clerk, Cliff Bacon, CPRE Rutland continues to monitor speculative development of all forms around the county and responds to the planning authority on behalf of members and residents where appropriate.
There follow two recent examples of the charity's submissions in support of community and parish concerns.
Application Number: 2022/0325/MAO
Outline planning application for up to 150 residential dwellings (Class C3), with all matters reserved except for access for the development of land off Main Road, Barleythorpe.
Land To The West Of Main Road Barleythorpe Rutland
CPRE Rutland objects to this proposal on the following grounds:
The application site is located within designated open countryside where new housing is only permitted as an exception to established planning policy.
Barleythorpe is a small Restraint Village, albeit in close proximity to the built up area of Oakham, where new residential development is strictly limited.
Past planning policy has endeavoured to conserve the integrity and character of the village by the imposition of an "Area of Separation" around its perimeter.
It is acknowledged that this aim was compromised by the development of the "Sustainable Urban Extension" to Oakham, close to the eastern boundary of the village. Nevertheless, the area which is the subject of this application remains in agricultural use and is clearly outside any Planned Limits of Development.
Barleythorpe is an historic village, essentially still linear in form, and has been little changed apart from occasional infill development over the past decades.
The imposition of up to 150 houses as an "estate" is not in keeping with the size, configuration or character of the village.
CPRE Rutland considers that the land comprising the application site should be retained as open countryside, thus maintaining a buffer between Barleythorpe and Oakham. This is important to protect the appearance of the approach to the village; its character and cultural heritage and to prevent the village from becoming absorbed as an extension of Oakham.
For these reasons, CPRE Rutland considers that this application should be refused in accordance with planning policies relating to the Open Countryside, Restraint Villages and to ensure the protection of the character of historic Barleythorpe, particularly on its approach by road on the A606 from Oakham.
Application Number: 2022/0336/MAO
Address: Land Off Burley Road Oakham Rutland Proposal: Outline planning application with all matters except access reserved, for the erection of up to 213 dwellings, amenity space, allotments including parking and areas for outdoor play, landscaping and all associated infrastructure.
CPRE Rutland objects to this planning application. Notwithstanding the fact that the site was included as a draft allocation in the, now withdrawn, emerging Local Plan, it is considered that the location is not appropriate for residential development for the following reasons:
The site is located beyond the Oakham by-pass on agricultural land, beyond Oakham's planned limits of development. Housing development in this location, on the scale proposed, cannot be considered a natural extension of the town but a satellite estate pushing into open countryside and with no obvious connection to services other than across a busy road
The site boundary lies close to that of the designated Rutland Water Area and only 1.25 km from the western edge of the Rutland Water SSSI, Ramsar and SPA. Moreover, the site is at a level some 15 metres above that of the Rutland Water shore such that drainage from the site is likely to enter the tributary of the river Gwash which flows adjacent to the site and ultimately into Rutland Water. This could have an adverse impact on the integrity of the nature reserve and its special interests through water pollution. Has the applicant carried out an Appropriate Assessment?
Even if development in the location proposed were to be considered acceptable in principle, CPRE Rutland contends that the scale, poor relationship to the town and potential adverse impact upon the special interest of Rutland Water, site for nature conservation, are significant negative factors
It is further noted that the adjacent Co-op Store building had been well set down to minimise visual impact. At the Coop end of the proposed site, the land proposed for housing rises significantly ensuring that the planned housing will be prominent on the skyline.
Membership
Led by board member and trustee Annabelle Meek, the charity continues to encourage new members to join our increasingly proactive local branch. Know someone interested? Why not invite them to get in touch so they can see our work for themselves?
Website and Social Media 
Thanks to excellent work by local company ClockedIn, the charity now has social medial pages on Facebook and Twitter linked to our new website at www.cprerutland.uk Once volunteer training has been completed in May, expect to see CPRE Rutland increasing proactive online.